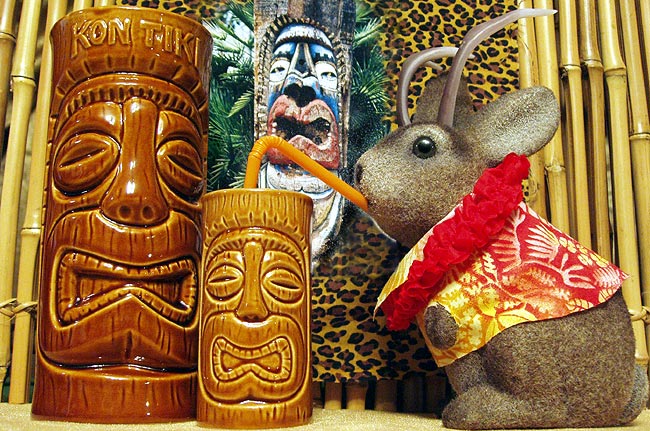 In our first installment of Mad About ..., I discussed the fundamentals of dressing well: undergarments. Now it's time to get toasted and take them off!
With the weather so cold - and in some places downright gloomy - I think it's only appropriate that we raise a big, fruity looking glass and make a toast. Today, we are going to learn a little about Tiki cocktails - those glorious, kitschy love letters to the halcyon days of mid-century America. Though they have only been around since the early 1940's, the idea of these cocktails has endured for many decades. In the 1920's and 1930's they could have been colloquially known as "Panty Peelers" - so named for their potent combination of heady alcohol and sweet mixers that helped to "socially lubricate" men and women of that time.
Tiki culture in America reaches back to the 1930's, but didn't really gain in popularity until after WWII when GI's came home and brought Polynesian culture with them. Don the Beachcomber, widely accepted as the first Tiki bar/restaurant, opened it's doors in 1934 in Hollywood, California. Most of the tropical drinks we know today ("Tiki", or sometimes "Boat Drinks") were created by Don. Trader Vic's also opened it's doors in 1934, in Oakland, California. The two restaurants have enjoyed a rivalry for decades, stemming from the debate over who invented the Mai Tai - more on that later.
Tiki bars and restaurants enjoyed popularity throughout the 1940's and 1950's before fading away and making room for Mod, and then, Hippie culture. The mid-1990's saw a resurgence in popularity. Trader Vic's has several chain locations all over the world and Don the Beachcomber's recently opened it's doors again in Huntington Beach, California.
OK! Enough history, lets start drinking!
I've selected four Tiki cocktails that are pretty traditional; if they peak your interest, then I suggest you get to Googling and find some more. Or, even better, go to your local book store and buy a couple of cocktail books.
Most Tiki cocktails tend to have more alcohol in them than a regular cocktail and are balanced with fresh fruit juices. But one of the most defining features are the lavish garnishes and extravagant serving glasses. Decorative ceramic vessels in the shape of Tikis, called "Tiki mugs", are the normal way to serve these drinks. But you can use coconut shells or volcanoes, especially if you're hosting a Tiki party. Volcano bowls, or "lava bowls", are large cocktail glasses with a flaming reservoir in the center. Garnishes include cocktail umbrellas, live flowers (instead of fake flowers) and plastic animals - but you can get as creative as you like.
If you don't have lava bowls or Tiki mugs on hand (what's wrong with you?), then regular cocktail glasses or highballs are perfectly acceptable. But it's fun to root through vintage boutiques and second-hand shops, like the Goodwill, to see what you can find. This is your chance to get creative! And, heck, you might discover that you love collecting!
The granddaddy of them all, the Mai Tai is the most well-known Tiki cocktail and the reason for Trader Vic's and Don the Beachcomber's feud. Trader Vic claims to have invented the cocktail in 1944 at his Oakland restaurant. Don the Beachcomber says "no way" - he invented the Mai Tai in 1933 at his Hollywood bar. Both recipes are wildly different - Don's being much more complicated and using Falernum, a flavored Caribbean syrup that is difficult to find in the United States. There is only one active supplier in Seattle, Washington. Trader Vic's recipe is a lot easier and, instead, uses Orgeat.
Don the Beachcomber recipe - 1933
3/4 oz or 1-1/2 tablespoons fresh lime juice
1 oz or 2 tablespoons fresh grapefruit juice
1 oz or 2 tablespoons sugar syrup
1 oz or 2 tablespoons dark rum
1-1/2 oz or 3 tablespoons golden rum
1/2 oz or 1 tablespoon Cointreau or triple Sec
1/4 oz or 1/2 tablespoon Falernum syrup
2 dashes or scant 1/2 teaspoon Angostura bitters
1 dash or scant 1/4 teaspoon Pernod or other anisette-flavored pastis
Shake all the ingredients in a shaker with ice
and strain into a tall highball glass
filled with crushed ice. Garnish with fruits and serve with a straw.
The Original Trader Vic Formula - 1944
2 oz of 17-year old J. Wray & Nephew Rum
juice from one fresh lime
1/2 oz Holland DeKuyper Orange Curacao
1/4 oz Trader Vic's Rock Candy Syrup
1/2 oz French Garnier Orgeat
Syrup
Shake vigorously and serve over crushed ice with a sprig of mint.
Both drinks call for some pretty specific stuff but don't let that deter you - a lot of these things can be found online and at good liquor stores. Another good bet is to become friends with a bartender. He, or she, can tell you where to get some of this stuff, how to make it and what some good alternatives would be. Plus, it never hurts to have a bartender in your entourage!
So named for it's perceived effects upon the drinker, this is the ultimate Panty Peeler (I just really love saying that). The Zombie was created by our beloved Don Beachcomber in the late 1930's but became popular at the 1939 New York World's Fair. Now, according to the original recipe, there are the equivalent of 7.5 ounces of alcohol in a single Zombie. For perspective: this is the same as drinking three and a half cocktails made with a fairly generous 2 ounces of alcohol per drink.
Don Beachcomber was very protective of his recipe (all of his recipes, in fact) which lead imitators to create their own versions. The results were usually poor, but, hey, a drinks a drink! Today, many variations exist and information on the original recipe is hardly definitive. I think my favorite quote about the drink is: "

The object is to get as many different rums as possible into one drink, like students in a telephone box."
After some light Googling I have found a variety of recipes - check wiki.webtender.com for a complete list. I went with the supposed original recipe from 1934:
1 1/2 oz. Lowndes Jamaican rum
1 1/2 oz. gold Puerto Rican rum
1 oz. 151-proof Demerara rum
6 drops Herbsaint or Pernod
Put all into blender, with ice last. Blend for five seconds. Pour into glass and garnish with mint sprig.
NOTE: Don's mix is 2 parts grapefruit juice, 1 part cinnamon-infused sugar syrup.
A quick word on "blended drinks": there is a time and a place for them and this is one of them. I may be a girl but I drink like a man and rarely ever partake in a blended cocktail. But Tiki drinks are just fine for this. However, if you just cannot abide (and I honestly don't blame you) then please feel free to shake and server over ice - I do suggest straining, though.
A drink not created by Don Beachcomber?! Tis true! This concoction was developed at the Long Bar in the Raffles Hotel in Singapore. A sling is a type of cocktail, usually with citrus flavors. Credit for the invention is given to a gentleman by the name of Ngiam Tong Boom. He is supposed to have created the drink sometime in the early 20th century, though accounts differ.
Most versions of the cocktail, today, are heavily modified and may even be blended. Early recipes suggest shaking and straining the drink, you can do whatever you like. If you do shake and strain you can serve it straight up or over ice. But remember to garnish! Preferably with loads of tropical fruits and some silly plastic animal.
Official Raffles Hotel Singapore Sling Recipe
1/4 ounce DOM Benedictine
a dash of Angostura bitters
Shake and strain or blend. Garnish and serve!
And we're back to Don the Beachcomber! In 1941 Don Beachcomber supposedly invented this haiku to rum. Rum! I love rum.
What I love about this drink (besides the rum) is it's history. Don may have cobbled this lovely lady together in the '40's but Grogs have been around since the 16th century. "Grog" is an all-purpose title for a variety of alcoholic drinks that, originally, referred to a drink made with water or weak beer and rum (rum!). It was introduced into the Royal Navy by British Vice Admiral Edward Vernon.
In Australia and New Zealand, practically any drink is called a grog, because those people are degenerates.
0.75 shots of grapefruit juice
Measure two shots of dark rum and add to mixing tin. Add honey and stir until dissolved. Measure and add one shot of light rum. Measure and add the citrus juices. Add lots of ice to the tin and shake well, until condensation forms on the outside. Fill a Collins glass with ice and strain the drink into the glass. Top with soda water and gently stir. Garnish with a lime wheel and cherry.
A quick note on shaking: it's important to do it correctly. You shake not only to chill the drink, but to make sure everything is well combined. Your mixing tin should have a nice layer of condensation on the outside and your hands should be freezing. How do you achieve this? "Shake the shaker as hard as you can. Don't just rock it; you are trying to wake it up, not send it to sleep!" - quote courtesy of Harry Craddock of the Savoy Hotel in London.
Start Googling around for more Tiki cocktails if this has piqued your interest. A quick glance at Trader Vic's menu shows the fantastically named "Suffering Bastard", "Scorpion", "Potted Parrot" and "Samoan Fog Cutter." I'm not about to leave Don the Beachcomber out! How about a "Vicious Virgin"? A "Dr. Funk", maybe? Or a good old fashioned "Rum Barrel"! Explore the possibilities and enjoy!